Close guidance supporting your practice.
A tailored program developing your potential.
Work closely with me to develop your physical preparedness & movement potential.
No previous experience required. 
A practice supported by personalised programming and extensive library of video resources. 
Spaces are limited. 
Get in touch for a free consultation.
Online Support: What & Why
Online support is 100% personalised programming designed according to you, your level, and your goals. All material is linked to an exclusive online video library through your program's .pdf format. We work closely together as I support & guide your journey every step of the way.
Yes – and more. Whilst the goal of coaching is unlocking your potential, a SUPPORT program is also there to teach, mentor, advise, and guide.
The more you practice, the more you will grow, the more you will change. We maintain close communication to guide your continued exploration.
is online support for me?
If you want to Move but don't know where to start, are already practicing but need structure, or just seeking a dynamic, stimulating, and engaging physical practice, then read further.
Online Support is open to
ALL bodies and abilities.
There is only one rule: Practice.
Every teacher has their own Movement Perspective and their own approach to Online Coaching. My approach is a personal one – both in programming and in our working relationship.
Because of this, I support a strictly limited number of practitioners for greater 1 to 1 support.
1. Review practice options
Choose a full practice built around the 'Core' option or 'single-program'.
Not sure? No worries – book a free consultation to discuss further.
Add 'focus modules' according to your interests,  goals, & commitment level.
'Core +' = 1 extra focus module
'Movement' =  a mix of all focus modules
3. Book your consultation
Whether ready to start or in need of clarification, book a free consultation.
There is no obligation.
Let's discuss your practice.
Practice options & pricing
PAYMENT: in CHF (Swiss Franc) via bank transfer ONLY, after consultation & agreement. Practice begins on a Monday.
*Program updates depend ENTIRELY on your progress and level of communication (video submissions & feedback)
Pricing applicable as of 01.11.2022
4x subjects (Core Practice + all Focus Modules) directing your complete physical practice & developing your Movement Perspective. 4 main programs, plus additional practice..
Your programming will reflect my personal perspective on developing general movement potential and you are expected to dedicate time to all aspects of your practice. For guidance through an explorative, yet developmental, practice with a more complete movement experience, this is for you.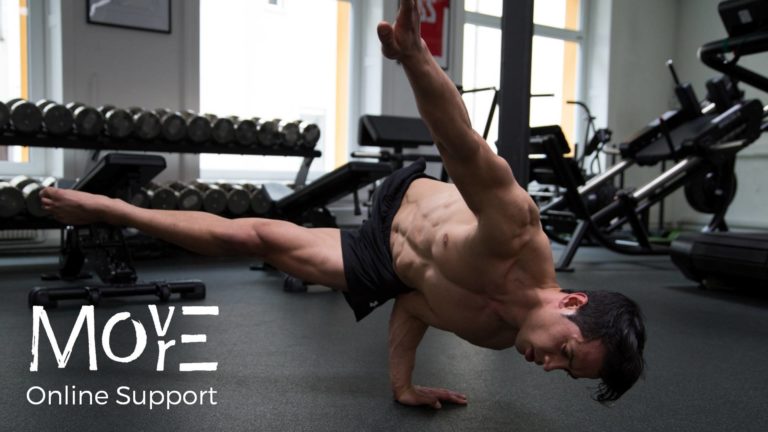 Your practice will include the Core Practice plus all focus modules as well as digging deeper into aspects such as coordination, timing, rhythm, fine motor control, and much more through a variety of movement tasks and projects. 
A physical practice based on a perspective of experience & learning ultimately affects you beyond the physiological alone. A Movement Practice will test and develop your patience, frustration & stress management, diligence, efficiency, and work ethic.
"The Movement Practice is an endless exploration of being in a body that exists under the constant condition of Movement."
2 x programs (Upper-Body Strength & Mobility / Lower-Body Complexity) plus accessory material. An extra 'Focus Module' can be added as desired (Core+). Required equipment:
A light resistance/theraband (open-end)

A wooden stick & tennis balls

1-2 x dumbbells adjustable between 1-10kg

Overhead bar (also at home) & gymnastics rings

Access to barbell & weight-plates up to 1.5x bodyweight

Access to parallel-bars or 2x plo-boxes is desirable
"The fundamental basis for strength and mobility with the Online Support program. "
For beginner to intermediate practitioners – we build your straight-line handstand from the ground, up.
Progressions for a variety of level & goals. We progressively develop your two-handed handstand and explore laterally to develop your embodied understaning of inverted balance.
Work on skills such as  press-handstand, stalder press, handstand pushup & more
Including necessary prehabilitation & target mobility. 
"Whether a complete beginner or intermediate practitioner, progressions are provided for a variety of levels and goals."
locomotion & Floor Communication
Develop a 'vocabulary' of movement above and in contact with the floor.
Explore a world of bipedal and quadrupedal patterns, sequences, & variations.
Improve conditioning, mobility, strength, coordination, balance, movement complexity & more. 
"For anyone interested in building a vocabulary of movement above & in close contact with the floor."
Small & large-frame mobility
Developing the USABLE range of joint articulations.
Building strength, stability, & mobilising common 'blockages'.
'Small-Frame' mobility: developing motor control of the spine & scapulae on the smaller, local level.
'Large-Frame' mobility: developing global positions such as resting squat, splits & 'pancake', bridging & more
" beneficial for both those who lack mobility  AND those who are very flexible, but lack strength"
Practice options & pricing
PAYMENT: in CHF (Swiss Franc) via bank transfer ONLY, after consultation & agreement. Practice begins on a Monday.
*Program updates depend ENTIRELY on your progress and level of communication (video submissions & feedback) 
Pricing applicable as of 01.11.2022
time requirement & commitment:
For 'Core practice', a commitment to 2-4x main sessions per week is required. For 'Core+' (i.e. adding a single 'Focus module') it is 3-5x sessions, and for 'Movement Practice' 4-6x sessions are required. Minimum session length is 90mins to a maximum of 3 hours & is adapted in accordance with your time availability. Sessions are inclusive of all warm-up & prehabilitation. All programming is flexible within reason.
When a 'Handstand & Inversion' module is being practiced, the higher-end of frequency is required. Balance & skill-development requires greater consistency, and so each session needs to be practiced a minimum of 2-3x per week.
A further minimum of 20-40 minutes 3-4 days per week is required for 'priority' practice, and "small-frame" spine & scapular work (this is always a "lighter" practice requiring little to no equipment). Further, you will be given 'movement projects' with which you can spend anywhere between 5-30 minutes with as little or often as you like. Your investment in them determines exposure to new projects.
Your experience and progress is directly related to your practice time & commitment; the more quality time you can invest in your practice the more it will repay.
video submission, feedback,
& program Updates:
You are requested to make video submissions (detailed in-program) to monitor your progress and to set our model for practice. Submissions and all are uploaded to a personal Google Drive. You are responsible for your own storage plan.
After submission, you will receive detailed feedback within 1 week including required re-submissions. Re-/submissions are NOT a tool for "testing" you – they are a tool for reference, learning, & development.
Program updates (where applicable) depend ENTIRELY on timeliness/completeness of submissions and your level of communication.
For close contact, WhatsApp is recommended. For distant, email. When required we can organise further video meetings/calls to catch up on your practice. If you have the opportunity to attend a workshop or class with me, this are encouraged.
result & how long it takes:
If this is of primary concern, then this program is not for you. We are process oriented which means, whilst we stay mindful of the future, it is not at the expense of the present moment. – Yoda
You can easily adjust the length of any session by increasing or decrease the number of "rounds" performed. This is outlined in your programming.
In any 12-week block a 1-week extension can be taken for sickness or holiday when previously agreed (this is mutual).
Whilst we practice well, we do not serve the practice. This means that when the trials of life mean we cannot practice as we may like, we do not break but we accept and adapt.
This is the practice.
Injury (previous or current)
If you are physically injured or have a history of injury, you can still participate in this program. We will discuss your individual case in our consultation.
Working from the perspective of improving your movement quality (essentially your quality of life), injury is approached little different to the rest of our practice – we investigate and learn about it. The more we know about our injuries & limitations the more we can understand, adapt to & potentially treat them.
Whilst many minor and major issues can be rehabilitated to a pain-free state, there will always be 'immovable' injuries that continue to cause restrictions and limitation. The practice is always adjusted and develops accordingly.
Payment for Online Support should be made by direct bank transfer and must be in CHF (Swiss Franc) – a payment request with all details will be sent once we have agreed to work together. Only where absolutely necessary can PayPal can be used at a 6% surcharge and must be previously agreed. No other payment methods can be accepted.
Refunds are not given under any circumstances.